LONDRES: mas de 100.000 en la amrc ha contra e gobierno
Thousands march in trade unions' anti-cuts demonstration
Ed Miliband joins rally to attack government policies and promises to end privatisation of the NHS if Labour are elected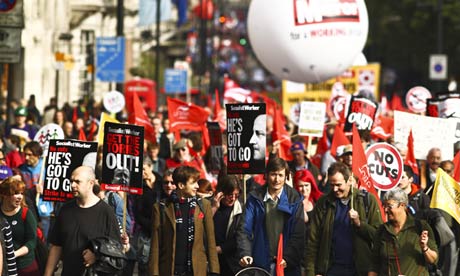 Nurses, firefighters, teachers and prison officers joined an estimated 100,000 protesters on Saturday in huge demonstrations against the government, loudly cheering calls for a 24-hour general strike.
Union officials and politicians, including Labour leader
Ed Miliband
, bitterly attacked the coalition's spending cuts, accusing ministers of being more interested in supporting millionaires than ordinary workers.
The events in
London
, Glasgow and
Belfast
passed peacefully, although some disabled activists staged a sit-in and cut off traffic close to Hyde Park in London.